OUR MISSION
"Providing employment support and expanding opportunities for individuals with varying abilities."
DECLARATION OF VALUES
We believe that:
Each individual has the right to develop his/her innate potential
The dignity and self-worth of every person shall be recognized and respected
Each individual shall receive fair and non-discriminatory service
Services will be delivered via an individualized approach in an atmosphere of confidentiality, professionalism, accountability and integrity.
A little bit about who we are.
CHOICES Association of Fort McMurray has been committed to providing services and programs that promote community inclusion for the past 50 years.
The organization's mandate is to support individuals, who have a wide range of barriers and/or limitations to employment including physical/mental challenges, health issues, mental health issues, learning disabilities, acquired brain injury, alcohol-related birth defects, and any other issue/condition which makes securing and maintaining a job difficult or impossible and any other possible barriers that older citizens or newcomers may have with securing and maintaining a job.
We offer career and employment counseling, training and skill enhancement programs and an up-to-date job board, which lists all local opportunities.
More information can be found viewing our Organization Overview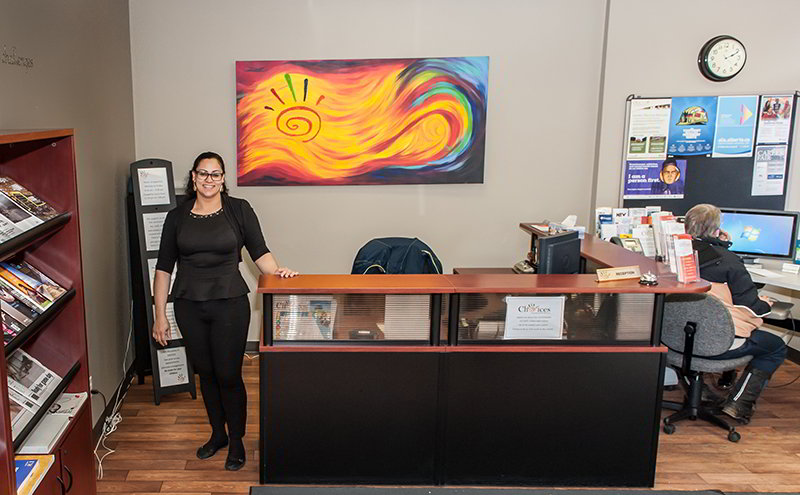 Community and Social Services

Regional Municipality of Wood Buffalo
Choices Association of Fort McMurray works with a number of organizations to provide the necessary support to individuals with disabilities and challenges.

YMCA

Salvation Army

Centre of Hope
Waypoints
Our Executive Director
Our board of directors
Nicole Greville
Vice-Chair
Cassie Gensorek
Secretary
Our History
History of the Association
1968
In 1968, a small group of citizens formed the Fort McMurray Association for the Mentally Retarded. The Association was incorporated under the Societies Act of Alberta in 1969 as a non-profit organization.
1974
The Association opened the Hillside Residence in Waterways, a group home for mentally challenged children funded by Social Services. The home was closed in 1987 as part of the philosophy of Social Services to deinstitutionalize mentally challenged individuals.
View More
1975
The Next to New Thrift store was opened in 1975. This initiative proved to be a major fund-raiser for several years and eventually closed in 1987.
1982
The Association changed its name to the Fort McMurray Association for the Mentally Handicapped.
1986
Kids are Kids, Integrated Preschool was initiated, funded by Social Services along with parent fees. This was a very successful program that provided a total of fourteen spaces for children with special needs. The preschool was eventually closed in 2004 due to the implementation of the Early Entry Program provided by the School Districts.
1991
April 11
The Association's name was changed to the Fort McMurray Association for Community Living. A step encouraged by the Canadian Association for Community Living and Alberta Association for Community Living. This was done in keeping with the philosophy that "labels" be removed, and to eliminate discrimination.
July 1st
CHOICES Supported Employment Center became a reality -Jointly funded by Canada Employment Center and Advanced Education and Career Development. The original mandate was to provide employment opportunities and support to individuals in Fort McMurray and area, who were mentally challenged, using the supported employment model.
1992
Because of the great success achieved from the CHOICES program, in March, the program expanded to offer services to the physically challenged and to individuals with mental health issues. The Opportunities Fund awarded by Human Resources Development Canada provided direct employment resources to unemployed individuals who have exhausted all avenues of support. These services ended in 2005.
2003
In 2003, transitional housing services for single women age 18 or older who have barriers or mental health issues and who are homeless or near homeless was implemented. Individuals had to be linked with a community support agency such as Community Mental Health, ADDAC or PPD. This program ended in December of 2008.
2004
The Low Income Transit Pass Program was initiated for people who have extremely low income providing monthly passes and one ticket rides. In 2009, the Salvation Army Family Services took over the program.
2005
Fort McMurray Association for Community Living was approached by the Alberta Premier's Council to host its first International Day of Persons with Disabilities (IDPD) event. Hosted every December 3rd, this was brought about by the United Nations in 1992 to increase awareness and understanding of persons with disabilities and the issues that impact their lives.
2007
In 2007, the website for the Fort McMurray Association for Community Living, www.fmacl.ca was launched.
2008
In 2008, there were two new initiatives formed:
1.Employment Readiness Program which assists in individuals with developing life skills, job searching, resume development and supported employment;
2.The CHOICES program expands to include the position of an Employment Liaison; that will provide further supports for the job maintenance portion of employment services.
2009
Fort McMurray Association for Community Living celebrated its 40th year in Fort McMurray, providing services to people with barriers.
The Fort McMurray Association for Community Living changed its mission statement - Providing employment support and expanding opportunities for individuals with disabilities and challenges.
For the 40th year celebration, a dinner and live auction took place at the Sawridge Inn and Conference Centre with master of ceremonies Graham Neil from CTV, Comedian Andre Grose and Auctioneer Russ Findlay, over $14,000 was raised.
The Fort McMurray Association for Community Living becomes partners of the Housing First Program to end homelessness in Fort McMurray by providing an Employment Counselor dedicated solely to Housing First individuals.
2011
The agency changed its name to CHOICES Association of Fort McMurray. This was to better showcase the agency and its programs.
Choices added a new component to its Housing First Program, the Basic Alberta Identification Program for individuals who are homeless, or newly housed.
2012
The agency was successful in retaining a contract through Alberta Human Services (AHS) called Targeted Initiative for Older Workers (TIOW) this program targets individuals that are 50-64 years of age that are unemployed and re-entering the workforce or individuals that are underemployed.
2015
Choices has collaborated with Alberta Human Services and Keyano College to administer a Hospitality Program for its clients. This is a four week program that provides certification training in in the hospitality industry that includes, WHMIS, First Aid, Safe Food handling and Pro-Serve.
Choices' new and current website was developed and launched: https://choicesfortmcmurray.ca/
Hide Expanded